How does our garden grow? 98 more local children are ready to begin kindergarten this fall thanks to the following partners who supported Preschool Advantage from July 1, 2021 – June 30, 2022:
Ally Financial
Arch Insurance Group Inc.
Autosport Acura of Denville
Broadfield Capital
Brown Brothers Harriman
Celtic Sheetmetal, Inc.
Communication Devices Inc.
ConnectOne Bank
Connell Foley LLP
Cornerstone Real Estate Group, LLC
Crum & Forster Insurance
Ditschman Flemington Ford Lincoln
Elm Street Group of Weichert Realtors
End of Elm
First Bank
Foley, Inc.
Glenmede Trust Company
Hackensack Meridian Health
The Hampshire Companies
Hillside Preschool
Lakeland Bank
LPL Financial
Maple Encore Holdings, LLC
Mastercard
Microsoft
Morris County Tourism Bureau
Network for Good
Neuberger Berman
New Jersey Monthly Tomlinson Enterprises, Inc.
New Jersey Resources Home Services
Nisivoccia LLP
Nvidia
Paramount Realty Services, Inc.
Paris Ackerman LLP
PayPal Charitable Giving Fund
Peapack Gladstone Bank
The Peck School
PNC Wealth Management
Private Advisor Group
The Provident Bank
Redcom Design & Construction LLC
Rosenfield & Co., PLLC
Salerno Duane Infinity
Schiller & Pittenger, and Galvin, P.C.
Sherman Atlas Sylvester & Stamelman LLP
Simon Quick Advisors
TD Bank
Trader's Edge
True & Associates
The Warburg Pincus Foundation
Wholesale Auto Supply
Wiley Malehorn Sirota & Raynes
John Bickford Foundation
Cestone Family Foundation
Carmen & Jim Courter Foundation
Daniell Family Foundation
Robert & Joan Dircks Foundation
Goldman Sachs Gives
Hecht Foundation
Edward L. Hennessy, Jr. & Ruth S. Hennessy Foundation
Investors Foundation
Kearny Bank Foundation
F.M. Kirby Foundation
Kronthal Family Foundation
Madison Rotary
Meerwarth Family Foundation
Neuberger Berman Foundation
Novartis Pharmaceutical Foundation
George A. Ohl, Jr. Trust
PNC Foundation
Provident Bank Foundation
Ranger Family Foundation
Charles L. Read Foundation
Rochkind-Wagner Foundation
Rotary Club of Morristown
William E. Simon Foundation
Charles Emil Thenen Foundation
Tyler Foundation
Vanech Family Foundation
Alden Vose Foundation
Jack Weisberg Charitable Foundation
We have become involved with Preschool Advantage over the last year and are so impressed with the wonderful people we have met and the difference the organization is making! We strongly believe that every child deserves a fair chance to succeed and with the knowledge that preschool makes such a huge difference in that success, it's an honor to support this great organization.
Priscilla Elms, Elm Street Group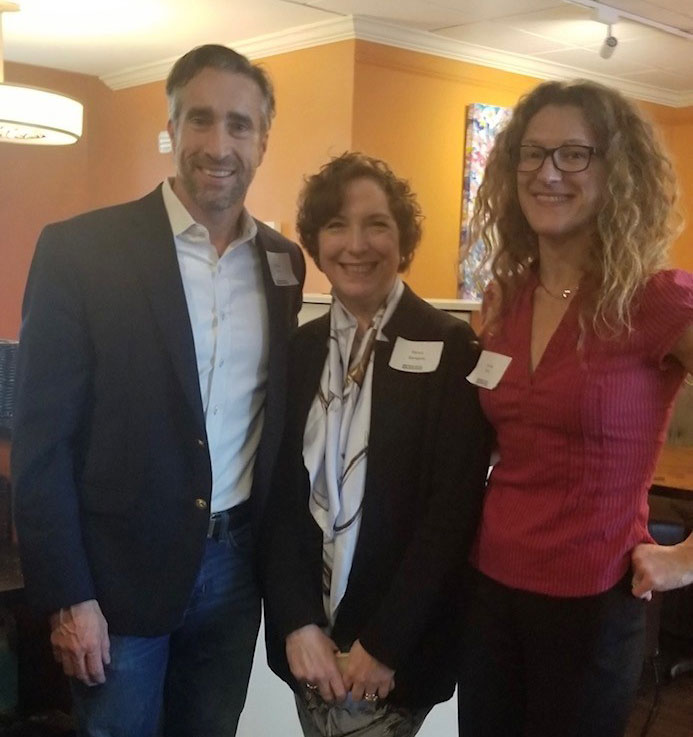 (Pictured left to right) Mike Elms, Nancy Bangiola & Priscilla Elms: First time donors sponsoring Cocktails & Conversation with the Preschool Advantage Executive Director.
I have had an incredible experience volunteering for Preschool Advantage. Getting involved in this organization has been so meaningful to me and I am fortunate to have made an impact on the lives of many children.
Chelsea Perez, Senior Associate PwC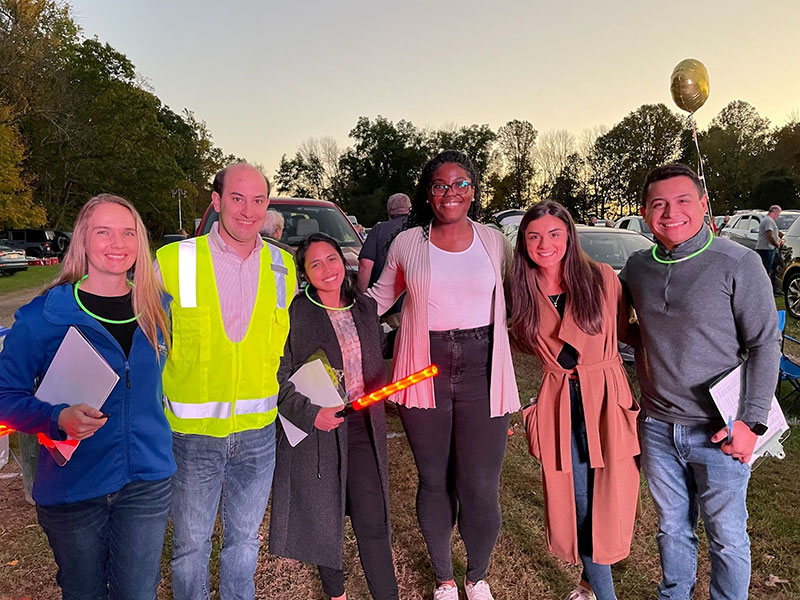 (Pictured left to right) Volunteers from PwC: Diane Moreschi, Robert Emmerich, Tiara-Sufina Azly, Michelle Agbo, Chelsea Perez & Andrew Aguilera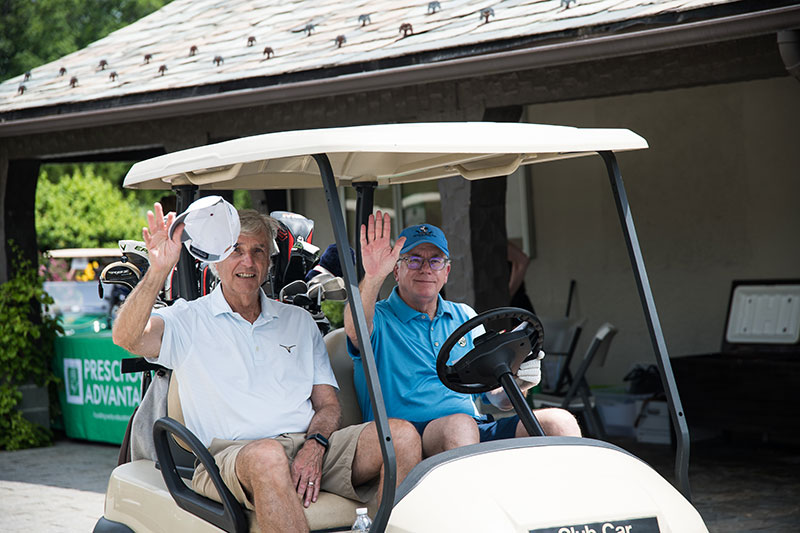 Provident Bank, Cocktail Sponsor of the 2022 Golf Invitational: (Pictured left to right) Brian Giovinazzi & John Kuntz
Ellen & Doug Abere
Cathy & Graham Ackerman
Leslie Adler
Hamza Ahmed
Rachelle Alexander
Georgina & Anthony Alexandre
Andrew Aguilera
Felicia & Michael Angus
Jay Anthony
Carol & Thomas Arnold
Nancy & Paul Bangiola
Aldo Bangiola
Julie Baron
Petra & Gary Barone
Melissa & Jeff Bartoli
Karen & Richard Basile
Joseph Basralian
Thomas Bay
Lynda & Jeff Baydin
Robyn & Timothy Beh
Susan & Richard Bergeman
Trudy & Charles Berman
Christine & Duncan Bethune
Michael Bey
Joanne & Tom Bintinger
Logan Black Roberts
Betsey & Grosvenor Blair
Michele & Buff Blanchard
Colleen Boyle
Carol & John Brady
Carole & Stephen Brady
Stacey & Anthony Breaks
Virginia Brennan
Bernie & Alphonse Briand
Philip Bringuier
Crary & Geoffrey Brooks
Stephanie Brumby
Jenn & Tim Brunnock
Fred Brunswick
Mark Bucley
Kathleen & Bret Budenbender
Donna & Robert Budlow
Alyce & Bob Burke
Lois & John Burns
Laufey & Ted Bustany
Roger Cantor
Matt Capuzzi
Colleen Carey
Bryn Casey
Kathleen & Juan Casiano
Andrew Cattano
Marissa & Peter Chandler
Elaine Chen
Sally Chubb
Deirdre Coleman
Barbara & Steven Colin
Marlene & Wayne Colizza
Michael Colvin
Ryan Colwell
Emily & Kyle Colwell
Susan Connant
James Connelly
William Connolly
Molly Cook
Isabel & Horace Corbin
Michael Corey
Susan & Fred Corona
Elizabeth & Chris Cox
Emily & Matthew Crystal
Leslie Cunningham
Thomas Curry
Nancy & Gary Curtis
Helen Dalessio
Ingrid Davidsen
Maureen & John Deibert
Linda & Robert Delap
Anna Lee Delayo
France & Brian Delle Donne
Victoria DePinto
Anne DeSilva
Dina & Patrick Dibre
Joan Dichter
Maureen & William Diehl
Lauren & Thomas Diemar
Lauren Dieterich
Seth Dobbs
Jean Dorr
Lindsey & David Dubman
Daniel Duda
Carolyn Duff
Anne & John Duffy
Jan Dulman
Molly Dunn & Len Smith
Corey Durling
Liz & Dean Durling
Amy & Chapin Durling
James Dworkin
John Egerter
Rue & Don Eisen
Kristin Elliott
Priscilla & Michael Elms
Robert Emmerich
Carolyn & Oliver Esman
David Falk
Donna Favreau
Catherine & Stuart Feenstra
Ann & Stephen Feld
LouAnn & Jeff Fellers
Wilfredo Fernandez
Danielle Fiorina
Fisch Family Fund
James Fitzgerald
Larry Fitzpatrick
Margot Jackler & Paul Flowerman
Teri & Mike Forand
Eric Friedman
Bob Friedman
Chiara Furfaro
Nat Furman
Karla & Kennedy Gabre
Linda Canavan & Philip Gaffney
Jeanne & John Galbraith
Jennifer & Daniel Gallagher
Celeste Gandolfo
Patty & Martin Ganek
Len Gannet
Bonnie & Gordon Gannon
Freya & Joseph Gervasi
Robin & Gary Gibson
Meghan & Daniel Gingerich
Bertille & Leon Glass
Nancy & Ivar Goldart
Morton Goldfein
Eliot Goldstein
Sandeep Gorai
Laura & Josh Gordon
Wendy & David Gordon
Jeanne & Joseph Goryeb
Christopher Grando
Joss Gregory
Sandy Hale
Paul Haley
Mary Ann LoFrumento & John Hallacy
Susan & Harold Han
Lauren Hand
Janet & Jon Harrington
Carol & Ray Hawkins
Heidi Hawkins
Virginia & Russell Hawkins
Mary Ellen & Gates Hawn
Kate & Arthur Hein
Nancy & Steven Helterman
Sally & Bill Hespe
Sally & William Hespe
Lesley & Dallas Hetherington
Therese Hills
Ned Hoseth
Julie Howard
Liz & Eugene Huang
Nancy Hults-Rubin & Richard Rubin
Moly Hung
Marcia & Peter Hunter
Kristin & John Hyland
Alex Imperatore
Michele & Rob Iverson
James Jacobus
Robin & Steve Jenkins
Stephen Johnson
David Jones
Michele & Keith Jones
Michael Jordre
Eshan Kadam
Diane & Richard Kahn
Timothy Kalas
Deborah Kalish
Jordan Kaputkin
Marci & Jan Kaputkin
Masashi Katayama
Christopher Kean
Janet & Paul Keating
Pam & Tadhg Kelly
Susan & Ronald Kennedy
Rachel Khatkhate
Barbara & Michael Killen
Christopher King
Adrienne & Dillard Kirby
Karen & Jeff Kirby
Sharon & Jack Knightly
Mike Kotarski
Dolores Kowalski
Rosemary & Brian Kristiansen
John & Megan Kuntz
Jane & Michael Kurek
Carrie & Brad Kurtzman
Michael Lalas
Denise Lanza
Anne & David LaPre
Beatrice Larkin
Jenna & Hank Larner
Leah & Mark Lasky
Jen Bessette & Harrison Lasser
Jill Lasser
Cheyanne Boyd & Robert Lasser
Tracey & Stuart Lasser
Ben Lawrence
Christina Le
Cindy Jones & Jeffrey Leach
Randy Lee
Alexander Lee
Kenneth Lenskold
Joyce & William Leuchten
Carol Levine & Todd Horowitz
Judy & Kenneth Levy
Marsha & Peter Lewin
Mary & Tom Lewis
Kenneth Litchult
Pam & Joseph Longo
Katherine Lopez
Jenna Lotner
Jessie & Jon Lubow
Susan & Lawrence Lubow
Sharon & Thomas Lynch
Christine & Jim MacDonald
Blair & Gordon MacInnes
Joshua Mackoff
Kimberly & Marshall MacLean
Caren Frankel & Jory Magdison
Nicholas Mangino
Ellen Maranca
Jody Marcus
Priscilla Marks
Judith Martin
Barbara Mason
Beatrice & Robert Mastracchio
Kathleen & Dave Mastrangelo
Mary Lou Mauro
Loretta McLaughlin Vignier
Priscilla & Jon McAleney
John McCann
Maureen Pavely & James McCreedy
Emily & John McDevitt
Leslie McDonnell
Mike McDonough
Bill McGlynn
Nancy McGlynn & Philip Sievering
Lisa & Marty McHugh
Robert Mckee
Janet & Larry McMillan
Donna McNamara
Edward Meinhardt
Martin Melilli
Susan Buckley & Robert Mellman
Ralph Mendoza
Ginger & Chris Michaels
Beth & Chris Mikosh
Nadine Milberg
Julie & Antonio Milelli
Maggie Milite & Adam Hoover
Priscilla & Trent Miller
Kate & Matthew Mirett
Judy Martinez & Hector Mislavsky
Dot & John Mitchell
Katherine Mitros
Brendan Monahan
Robert Moore
Patricia & Michael Morchower
Lindsey Morgan
Joel Morgan
Robert Morin
Jenny & Fred Moss
Chris Mossa
Jeanne Mueller
Michael Mullen
Lydia & Eric Muller
Brian Mulvihill
Jennifer & John Murphy
Sharon & Tom Murphy
Mary & Brian Murphy
Sally Muscarella
Debbie Myers
Naomi Sachs & David Nagy
Sharon & Joseph Nazzaro
Carolyn & Peter Needham
Kirsten & Stephen Neville
Jeannie Newman
Antonino Nicotra
Nancy Ann Niemann
Chris Noble
Maria & John Norton
Laurie Siegel & Joe Nosofsky
Edith Nussman
Esther & Steven Oakes
Diane & Basil O'Connor
Judy O'Hagan
Jane & Mark O'Keeffe
Charlie Oldendorp
Erin O'Neill
Michael Ozol
Stacy & Michael Ozol
Lynne & Jeffrey Pagano
Smruti & Ashish Parikh
David Paris
David Parsels
Jamie Pasqualone
Paul Patella
Jim Patterson
Peter Pavlini
The Payne Family Charitable Fund
Janet & J.D. Pearce
Scott Peller
Jason Perez
Aimee & Jim Perhacs
Mark Pesci
Julie & Bob Peterson
Sam Petrucci
Chris & Edgar Pew
Mary & Ronald Phillips
Justin Phillips
Tod Pierce
Judy Pierce & Kevin Coakley
Cindy Pirrello
Judy & James Pohlman
Lisa Pollak
Justin Poplawski
James Portela
Joseph Powell
Linda & Francis Purdue
Blake & Sumner Putnam
JoAnn Quattro
Eileen & Les Quick
Jean & Domenick Randazzo
Virginia & Michael Ranger
Patricia & Arthur Raynes
James Renahan
Gail Reuther
Lisa Robbins
Kaye Roberts
Mary Jane Robertson & Jock Clark
Timo Robins
Brian Robins
Dianne & Charles Robinson
Virginia Robinson
Sam Rockaway
Julie & Ben Rockwell
Cynthia & Michael Rogers
Connie & Paul Rosenberg
Patti Sue & Ed Rossi
Amy & Peter Rubinetti
Carol Rubnitz
Buzz Rukin
Patricia Russell
Stacy Russo
Christina Rutz
Tania Ryalls
Megan Sager
Kathleen & Michael Salerno
Barb & Bob Sandelands
Wendy & Andrew Sanford
Gil Santaliz
Susan & Michael Santomassimo
Evy & Peter Saulnier
Maria & Greg Savettiere
Mary Schaenan
Nancy & Nelson Schaenen
Todd Schermerhorn
Stacey & William Schlosser
Betty Cass-Schmidt & Arthur Schmidt
Jessica & Andy Schneider
Susan Schott
Jane Schrader
Susie & Barry Schub
Michael Schubiger
Robin Schwartz & Milton Hunter
Dawn Gangi & Jeffrey Schwartz
Sharon & Jimmy Schwarz
Irene and Christopher Sciales
Clare Kendall & Mark Sebree
Janet Senderowitz Loengard
Leslie & Gernot Senke
Kelly Shapiro
Charlene & Steve Shapiro
Katherine Shepperly
Sandra Sherman
Gary Shor
Jason Shuey
Lucy Shurtleff & Nic Platt
Bette Simmons
Susan & Douglas Simon
Carolyn & Tim Simpson
Michael Sinzer
Sandy Roethel & Joe Slinsky
David Smith
Caroline & Thomas Smith
Deann & Randy Snook
Sarah Soden
Karen & Martin Sokoloff
Debra & Luke Somers
Kris & Jim Sonneborn
Annette Soussa
Tara & Peter Speer
Melissa & Marc Spiotta
John Stanley
Nancy Stanton-Tuckman
Leslie & Harvey Stern
Rick Stine
Ellie & James Stover
Patrick Sullivan
Pam & Patrick Sullivan
Wendy & Greg Supron
Renee & Pasquale Suriano
Kay & Perry Sutaria
Peter Suzuki
John Swadba
Henry Swayne
Matthew Tal
Anne & Jason Tanner
Carl Teschemacher
Chris Testa
Suzanne & Rick Thoeni
Joann Tiefau
Robert Toner
Doug Treible
Christopher Tully
Sean Turner
Bortie Twiford
Luke Tyler
Suzanne & Mark Van Fossan
Denise & Dean Vanech
Shane Vasquez
Robin & Yorgi Vlamis
Susanne & Edward Von der Linde
Beth & Michael Wall
Sally & Alec Walsh
Susan & Dennis Walsingham
Marlene Wangenheim-Lombardi
Bob Ward
Jeffrey Ward
Roby & Josh Weinreich
Bonnie & Tom Welsh
Lisa & David Welsh
Kim & Finn Wentworth
Wendy White
Katrina & Taylor Whitman
Margaret Wilcox
Kendra Williams
Scott Witherspoon
Suzanne Witt
Cynthia Orsini & Daniel Wolfe
Marsha & Peter Wolfson
Deirdre & Norm Worth
Paul Wu
Wonjae Yang
Dave Yoon
Kristin & Troy Young
Rebecca Zacharias
Alan Zurla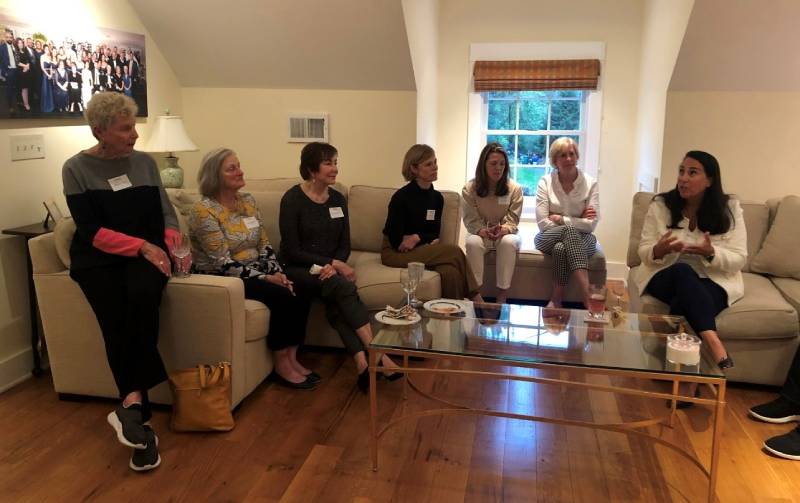 Donors gather at small intimate gatherings.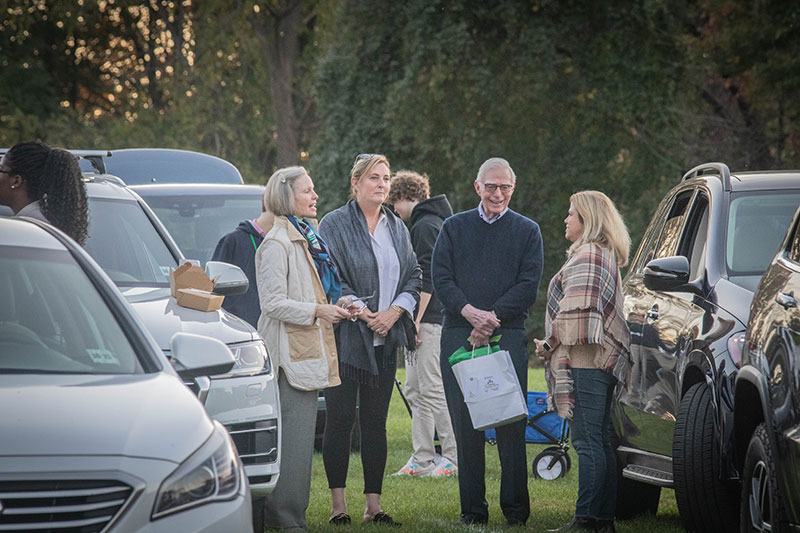 Donors attend Turning Leaves at the Tailgate held at Fosterfields, Morristown in October of 2021.
The following individuals and organizations have generously donated their services to Preschool Advantage throughout the year.
Baseline Productions
Charlotte Ottaino
Deb King & Peter Gordon
Electronic Access Foundation
End of Elm
Harold Han
Landworks Landscape Design
Morris County Farms
New Jersey Colonials Hockey Club
PwC
Sarah Adler
Vision Creative Group
Throughout my volunteering for Preschool Advantage, I have truly realized what it means to volunteer. The main reason I like volunteering for this organization is because of what they do for children in my community. I have been able to attend school since I was three and all I want is the same for all children.
U16 AAA Athlete, Rocco Mendoza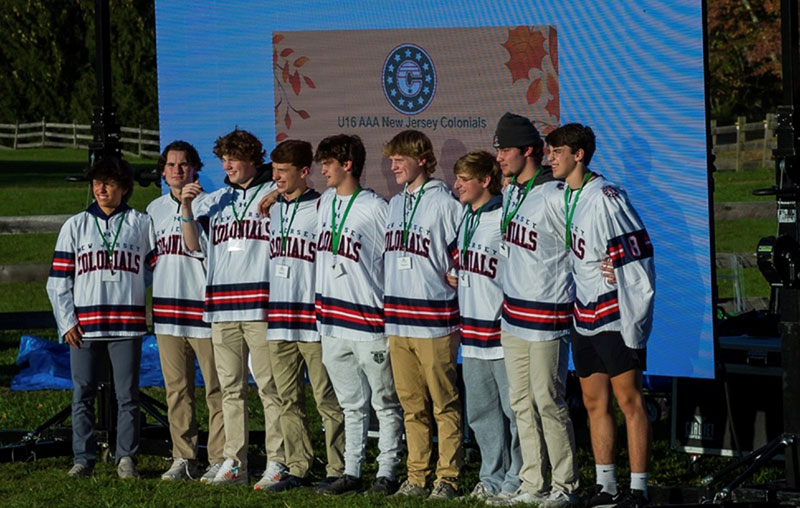 Members of the U16 AAA New Jersey Colonial hockey team volunteered their time at an annual fundraiser.
Being able to capture the message and document the accomplishments of Preschool Advantage has been an eye-opening experience for me. Education is crucial, and it can be overlooked when we assume it is guaranteed for all. But this organization has shown the lack of available schooling for young children and presents beneficial solutions.
Morristown High School Senior, Charlotte Ottaiano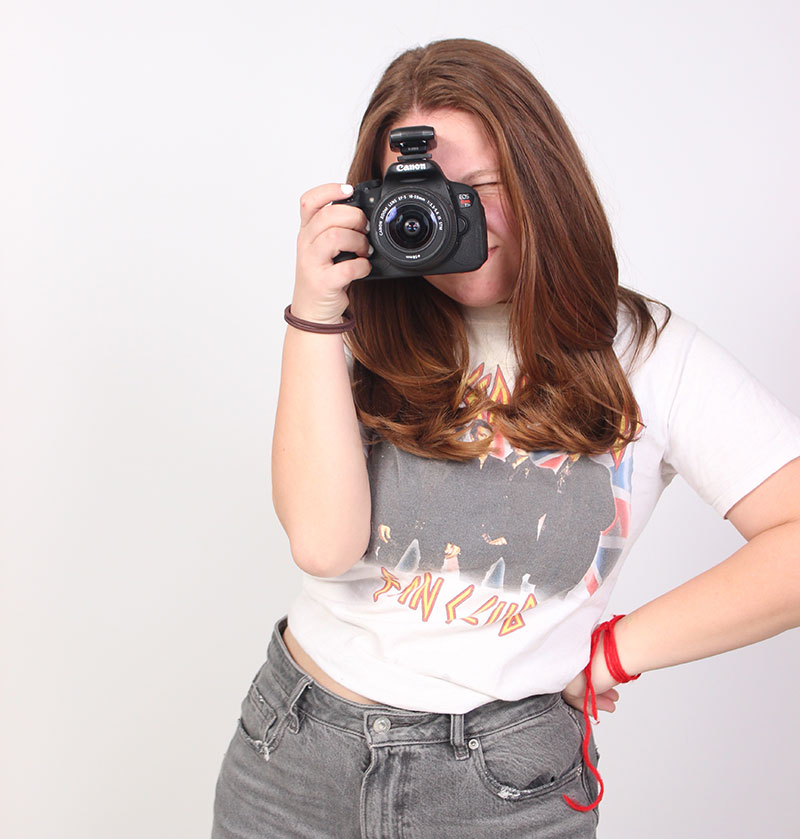 Charlotte Ottaiano donated her time and talent documenting events for Preschool Advantage.