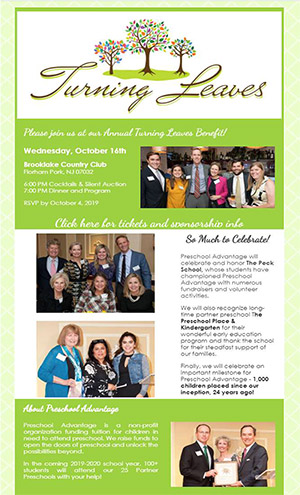 October 16, 2019
At Turning Leaves, hundreds of Preschool Advantage supporters gather for a festive fall evening of cocktails, dinner, and bidding on items in our live & silent auctions. Our volunteers, trustees, and friends celebrate the life-changing opportunity preschool provides for the children of Morris and Somerset Counties. Proceeds from this annual event fund nearly one-third of the tuition grants Preschool Advantage offers each year. Turning Leaves also gives us an opportunity to honor those individuals, organizations, and schools whose contributions have been transformative throughout the year.
2018 Turning Leaves Recap
​The 2018 Turning Leaves Fundraising Dinner, held at the Brooklake County Club, attracted more attendees and reached the highest net income for Preschool Advantage than ever before! The honoree was the firm of Massey Quick Simon. Bob Ward, former president of Preschool Advantage, presented the award to Les Quick, Managing Partner, Massey Quick Simon.
​Special recognition was also given to a long-time partner preschool, The Frances & Herbert Brody Preschool of Temple B'nai Or. Jennie Rubin, director of the preschool, spoke about the 20 plus year relationship between the two organizations.
The highlight of the evening was Alma Lugo (see video at right), whose son Daniel and daughter April both received Preschool Advantage funding. Daniel recently graduated from high school and is employed in telecommunications sales. April is a senior at Morristown High School and will be attending the County College of Morris next year with hopes of working in environmental law and policy. Alma is working on her business degree evenings at CCM.
Our thanks to the Committee, the Board, and all who attended this amazing annual event! Your generosity will allow Preschool Advantage to fund tuitions for over 30 children!