October 14, 2020
The 25th Anniversary Turning Leaves Annual Benefit will be held on October 14th, 2020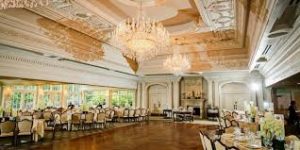 at The Park Savoy in Florham Park. At Turning Leaves, hundreds of Preschool Advantage supporters gather for a festive fall evening of cocktails, dinner, and bidding on items in our live & silent auctions. Our volunteers, trustees, and friends celebrate the life-changing opportunity preschool provides for the children of Morris and Somerset Counties. Proceeds from this annual event fund over one-third of the tuition grants Preschool Advantage offers each year. Turning Leaves also gives us an opportunity to honor those individuals, organizations, and schools whose contributions have been transformative throughout the year.
2019 Turning Leaves Recap
​The 2019 Turning Leaves Fundraising Dinner, held at the Brooklake County Club, attracted more than 325 attendees and reached the highest net income yet for Preschool Advantage! The community honoree was the The Peck School. Adrienne Kirby, Preschool Advantage Board President and past Peck parent, presented the award to Andrew Delinsky, Peck's Head of School.
​Special recognition was also given to a long-time partner preschool, The Preschool Place and Kindergarten. Carol Rubnitz, director of the preschool, spoke about the long relationship between the two organizations.
The highlight of the evening was Ashley Dunker, whose daughter Charlie received Preschool Advantage funding. Ashley currently holds a master's degree and works in human resource in a local school district. Her husband Jeff works as a high school social studies teacher.  They have three daughters now, and Charlie is in second grade.
Our thanks to the Committee, the Board, and all who attended this amazing annual event! Your generosity will allow Preschool Advantage to fund tuition for 40 children!