Audit Committee
The Audit Committee serves as the link between the Organization's independent financial auditor, the board of trustees, and management. Members of the Audit Committee coordinate and monitor the process of the audit, and oversee the organization's internal controls and risk-management procedures.
Development Committee
The Development Committee is responsible for implementing the fundraising and development strategies of the Organization. Responsibilities include preparing the annual development plan and budget, implementing the plan, and identifying, cultivating, soliciting, and stewarding donors. The Development Committee is also responsible for soliciting annual donations from the board of trustees.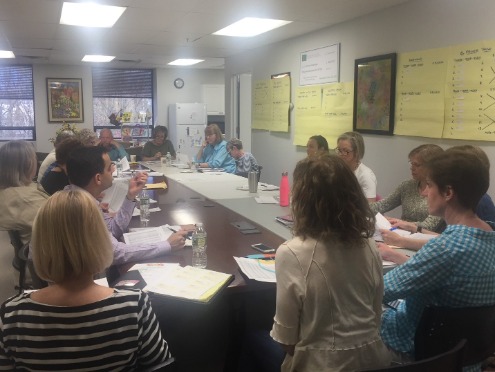 Finance Committee
The Finance Committee oversees the management of the Organization's finances, creates the annual budget, and establishes and reviews investment policies and strategies.
Communications Committee
The Communications Committee oversees the implementation of the Organization's communications plan. Areas of responsibility include the website, social media, newsletters, press, and public releases. The Communications Committee is responsible for the design and production of all marketing materials.
Governance Committee
The Governance Committee manages all processes related to the identification, recruitment, and stewardship of board members.
Child Committee
The Child Committee manages the family application process. Members review applications, interview applicant families, select families to receive funding, and place students in appropriate partner preschools.  The Child Committee also plans and implements orientation for the families of accepted students, and conducts periodic tracking to collect qualitative data on alumni progress.
School Committee
The School Committee actively manages relationships with each of our partner preschools. Members of the School Committee visit schools on a three-year cycle to ensure quality is maintained.  Every partner preschool in our network is assigned a liaison from the School Committee who serves as their point person within the Organization.  The School Committee supports the work of the Marketing Committee in promoting the Organization to current and potential partner preschools throughout the community.  The School Committee also actively seeks new partner preschools with which to partner, targeting communities identified in the Organization's strategic plan.
Golf Committee
The Golf Committee plans and executes the annual Golf Outing held in June each year.  The event includes competitions, a cash shoot-out, a 50/50 raffle, and auction items, followed by a cocktail reception and dinner.
Turning Leaves Annual Benefit Committee
The Turning Leaves Committee plans and executes the Organization's annual benefit held in October each year.  The evening includes cocktails, dinner, and bidding on donated items in both live and silent auctions.
Lend a Helping Hand
Your generosity enables us to help families in need.