Like a well-tended garden, a child's educational journey begins with the seeds planted during preschool.
Properly nourished, these seeds send strong and healthy roots into the soil, allowing the child to grow and ultimately blossom into his or her full potential.  As recent studies confirm, the lessons of preschool have deeper roots than originally thought – deep enough to support the growth not only of an individual child, but to create the conditions in which future generations can thrive.
When we met Nadia in 2006, she wanted very much to open the doors of preschool to her son, Daniel, but could not afford to do so on her own.  With funding from Preschool Advantage, Daniel attended El Primer Paso, one of our long-time partner preschools.  The seeds of learning took root and Daniel set off on his journey.  This spring, we had the good fortune to reconnect with Daniel and Nadia at a community outreach event in Dover, where we learned that Daniel is in his second year of nursing studies at the County College of Morris.  Preschool Advantage's mission to "open the doors of preschool and unlock the possibilities beyond," is truly embodied in Daniel and Nadia's smiling faces.  As a nurse, Daniel will be giving back to the community that nurtured him.  His mother had a dream for her son's future – a dream that was first nourished by the opportunity to go to preschool.
A thriving garden requires many hands.  We thank our partner preschool directors and teachers who will share in the pages ahead the many ways their Preschool Advantage students have blossomed over the course of the school year.  We thank the parents who share their joy with us as we celebrate their children's success.  We are grateful for the many donors, volunteers and board members who pitch in to tend the soil of our garden and create the fertile ground where children thrive. Thanks to you, we have great hope in the future ahead.
Nancy M. Bangiola, Executive Director, Preschool Advantage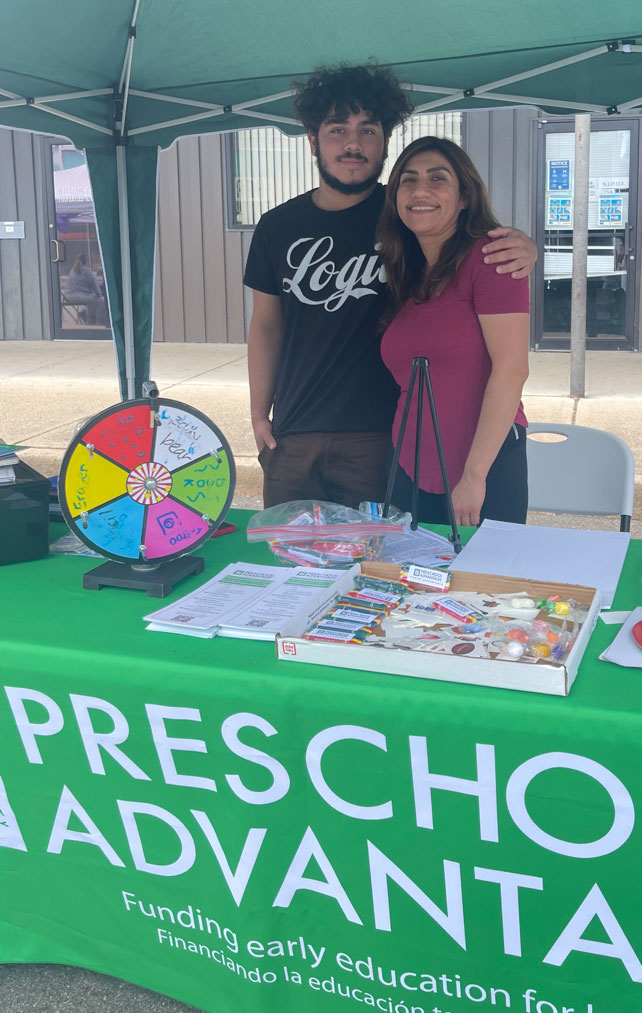 Daniel, a recipient of Preschool Advantage funding in 2006, attends an outreach event with his mom, Nadia, as a way to give back and help connect the organization with other families in his community.